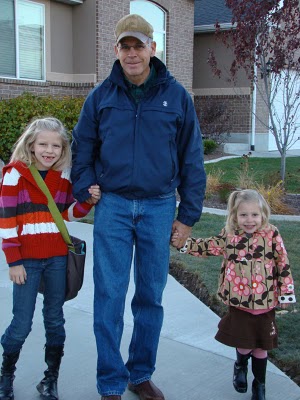 My blog has been neglected lately—as I'm sure you've noticed. I've been focusing on more important things like baby-making . . . and sleeping. I figured I would return with a vengeance when baby #3 makes her appearance but the thing is, now I'm worried I'll lose all my readers in the meantime. Are you still there? Really?
Actually, I've missed the interaction I get through this blog, so I'm feeling some renewed motivation to post more often. And I don't want to look back on these 9 months with no memories to show for it.
So, with that, above I'm sharing one of my favorite photos from last fall. Mom took this when Dad walked the girls to the babysitters house on the last morning of one of their quick visits to see us. If I remember right, this visit was when I very first found out I was pregnant and was very uncertain what the outcome would be. Mom and Dad came down to lend their support. I had a lot on my mind at the time, but it's great to have this photo of a happy memory.
(Speaking of, see that cute little jacket Sarah is wearing? Has anyone seen it? I've been missing it for a few weeks I think, and I can't remember with my pregnancy-governed mind where on earth we may have left it.)